Blog
Know Master Brains​
Know MASTER BRAINS up-close and personal. Business owners and managers struggle daily to find perfect consultants for varied financial and legal needs. Intending to balance between expertise and requirements, we exceed our budget and lack of contacts makes it almost impossible to find the right consultant. That is where Master Brains step in with a solution in your budget and as per your needs.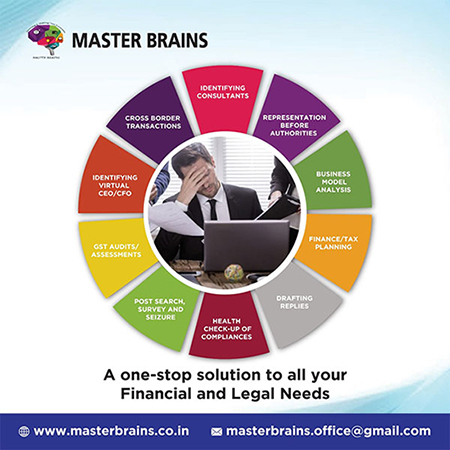 Master Brains will connect you to its spread of qualified professionals Pan India which will end your hunt for an expert within your budget.
Just fill in a short query form at click here, mentioning your requirement or problem and leave the rest on us. We will connect you with the right expert in the subject matter. Our consultants are well-enabled to solve everyday business queries to complex matters.
We have a group of associates in every state-city-town of the nation and we will connect you to the right expert in your budget in your location. Even if your company is registered in multiple states and requires local consultants in every state, Master Brains can provide you with a package for consultants all over the country. If you need a combination of services, Master Brains can create a unique package to meet all your requirements.
Master Brains via its associate consultants in the field of finance, taxation and law offer services in the following domains:
Income Tax Law
Securing your finances with our exceptional services like Health Check-up of your Legal Compliances, Post Survey, Search, and Seizure Proceedings. We also provide regular services like Tax Planning, Innovative solutions to TDS and TCS issues, and Corporate Taxation Advisory.
Income Tax is one of the oldest laws in the country which has far and wide applicability on the citizens of the country. However, with time the complexities of the law have become multifold. Thus, to take full advantage of all the opportunities within the law, proper tax planning and implementation becomes primary.
Master Brains' consultants will steer you and your business towards best taxation practices hand-in-hand with profitability and candour.
Company Law
Providing end-to-end services starting from incorporating a company to the maintenance of books of accounts, we take care of your internal audit and secretarial services as well. We believe that a company is best to run on a robust corporate governance framework. We at Master Brains can assist the management of a company to complete their compliances timely as well as to create a framework for the business to thrive in this competitive environment.
GST Law
Master Brains helps you take care of your business. We look after your GST Audits, represent you before the tax authorities, provide opinions on the applicability of GST on various transactions and perform health check-up of GST compliances. Given the nuances of the law, no proper appellate mechanism, multiple applicability and constitutionality issues and prosecution laws have made compliance with the GST Act of prime importance for every business. We have consultants with expertise in fields of e-way bills, e-invoicing, applicability of GST, preparing and filing writ petitions in the high court, prosecution matters and much more.
International Taxation
Dealing in an international market, you always need a 360 point of view so that you can keep track of transfer pricing compliances, establishing a business in India keeping in mind various FEMA regulations, vetting cross border transactions and much more. We will help you strategize transactions to reduce litigation exposure, preparing responses for TP Audit, and preparing a Country-By-Country Report so that you do not face any difficulties in the future and focus on your business.
FEMA and FCRA
With the liberalization of the Indian foreign exchange policy, there is a massive increase in cross-border investments. We provide consultancy services, draft replies to show cause notices, and represent you before authorities. We also help you with the applications for FCRA prior permission, FCRA registration, and renewal of FCRA registration under FCRA, 2010.
PMLA, Black Money and Benami Laws
In its commitment to eradicating corruption from our country, our government has brought new laws, namely the Benami Transaction Act, Prevention of Money Laundering, Black Money (Undisclosed Foreign Income and Assets), and Imposition of Tax Act. These laws have complex provisions which need expert attention. Master Brains with its team of experts help you draft replies to show cause notices and appear and represent you before adjudication and appellate authorities.
Civil Litigation
Legal disputes are exhausting and consume your precious time. That's why it is essential to have a panel of lawyers who can save you from the stress and keep- up with your company's reputation. We identify consultants that can settle the cases outside the court even before trials, represent you before authorities, draft detailed agreements and contracts, resolves conflicts and disputes, and plan strategies to recover from breach of contracts.
Digitization of Records
Every company needs a strategy so that they can optimize the resources they have and implement reasonable technological solutions for cost-cutting. We help you strategize the organisation's working, SWOT and cost-benefit analysis, Management Information System upgradation, and identifying and implementing technical solutions for Document Management Systems. These services will help even small and medium businesses achieve the advantages of digitisation economically.
Forensic Analysis
No matter big or small, all organizations face the dark side of their business in terms of Corruption, Fraud, Financial Mismanagement, and Digital Threats. We make sure that your forensic data is analysed correctly, rate the seriousness of each finding, and build a technological structure fit to your security needs. We will also conduct an in-depth investigation to find any illicit activity, including computer forensics, discovery, and dispute support.
MIS and ERP
We help implement and develop an MIS according to your organization that enables you to keep an eye on minute details, provides automated reports through which the business can be evaluated on every management level, and the necessary steps can be taken. In respect of ERP related services, we understand the business model and industry needs to identify and implement an apt ERP for your organisation.
Start-Up Management and Consultancy
Every business needs proper tax planning and advice; not every company makes huge profits in the initial stages of their business. Master Brains helps you in taking care of your businesses. Due to lack of knowledge, most start-ups get tangled in complex compliances and incur penalties that could have been easily avoided with proper planning.
Master Brains handholds the start-ups in building a solid foundation for the future by assisting in designing organizational policies, hiring the right managers, and implementing accounting & payroll systems. We also help in business planning and counselling, resource allocation, preparing a financial forecast, and cash flow planning.
We also offer a specialised service for start-ups where we analyse their business models and revenue models to understand various taxation and legal implications on the business and its transactions. This will enable start-ups to streamline business activities by creating Standard Operating Procedures (SOPs) right from the start.
Stressed Organization and IBC
The Insolvency and Bankruptcy Code 2016 has brought an enormous change in the Indian banking system. If you seek to deal with insolvency and liquidation proceedings, we can help you resolve professional compliances, provide consultancy services, and represent before NCLT and NCLAT via our associate professionals.
Other than above, Master Brains also have teams dedicated to providing specialized advisory services like retirement planning services, replying to notices on competition Act, portfolio management services, personal and corporate investment planning, valuation of financial securities and assets, etc.
Need more than one service? Worry not! We can create a package according to your requirements and budget.
Managing your compliances, show cause notices, litigations, finances and taxes can be hassle-free if you have Master Brains team of experts at your beck and call. We, with our database of professionals Pan India, identify the perfect consultant for your job. These professionals are Emplaned by Master Brains only after a thorough check of their knowledge and experience in the field. This makes sure that you receive quality services no matter what your budget is.
Summary
Master Brains is a consultancy aggregator that connects businesses with highly experienced Consultants across the country to resolve their Financial and Legal complications. We have experts from every field, everywhere, to help you out, within your budget, aiming to justify our motto of Securing and shaping your finances.
If you are looking for an expert consultant,
just fill in our query form at click here
If you are a professional and wish to join our team of experts,
please apply at click here